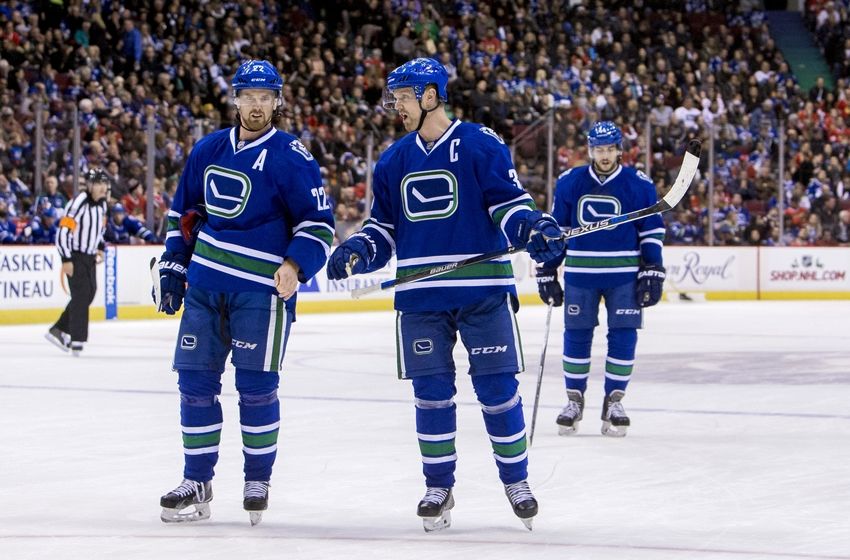 by Doug Praskach   Sept 15, 2016
Vancouver Canucks fans are already saving up for down payments on playoff tickets after the team got one of the biggest names in free agency in the offseason.
Vancouver Canucks acquisition of Loui Eriksson made a big splash when he was signed on the first day of the free agency frenzy barely after the opening clock struck. The big left winger has scored 20 goals in every full season since 2008 and had 30 last season.
Eriksson has played internationally in the past alongside Daniel Sedin and Henrik Sedin and they seem to be clicking in the World Cup of Hockey so far with big Loui chipping in three goals in their first two preliminary games.
In addition to Eriksson, Vancouver traded for Erik Gudbranson who is a physical stay-at-home defenseman.
After missing the playoffs last season by 12 points and with a -52 goal differential did the Canucks do enough to reach the playoffs and placate those fans with their deposits? Let's take a look at the ledger:
Vancouver Canucks Over 30 Club
The signing of Loui Eriksson was questioned by many because you are giving a six-year, $36 million dollar contract to a player who starts the season at 31-years old.  Both of the Sedin Twins will be 36.  At what point do they hit that age wall.  Not everyone can be Jaromir Jagr.
Goaltender Ryan Miller is 36-year-old and will be an Unrestricted Free Agent at the end of the season, probably leaving him to go his way.  Jacob Markstrom looks to be the future of the netminding and played better in his 33 games but has a .904 lifetime Save Pct.
Defenseman Alex Edler is 30 and has three years remaining with a $5 million dollar cap hit.  Jannick Hansen had 22 goals last season but is also 30. They have a lot of players getting into their "evening" years for a team that is supposedly trying to rebuild quickly.
All of that brings the question of the Eriksson contract under the microscope.  Did the Vancouver Canucks overpay a Free Agent that had a great year but is on the wrong end of his prime?
How About Some Scoring?
The Vancouver Canucks were next to last in scoring last season with 191 goals, finishing only ahead of New Jersey.  That was 76 less than league-leading Dallas, which is just about a goal a game difference.
They finished dead last in Goal Differential at a minus -52.  Washington was first with a plus +59. That is a lot of goal scoring to make up.  They are counting on Eriksson to add at least 20 but do you still get 28 from Daniel Sedin, the most he had since the 2011-12 season?  The power play was 27th in the league, connecting only 15.8-percent of the time.
Another place the Canucks are hopeful is Brandon Sutter.  He only played in 20 games and had a promising nine points before going down to injury.  The 27-year-old is more of a chippy, defensive-minded center though who h only scored 21 goals twice in eight years in the league.
Jannik Hansen is the only other 20-goal scorer as of now although Vancouver management is hoping for big things from both Bo Horvat and Sven Baertschi who had 16 and 15 respectively. Anton Rodin, a promising 25-year old winger from Sweden had a gruesome knee injury in January and could possibly chip in at some point.
Eriksson can help the power play and there may be a little increase from the supporting cast but it looks like the Vancouver Canucks are still in need of a lot of goals that need to materialize from somewhere.
Did the Vancouver Canucks Defense Improve?
The Canucks lost both Dan Hamhuis and Yannick Weber on defense.  Some say they won't be missed while others aren't so sure.  The blue line certainly got bigger with both of 6'7″ Nikita Tryamkin and 6'5″ Erik Gudbranson.  Both are defensive-minded physical players that may help Ryan Miller face fewer high-end chances.
They paid dearly for Gudbranson, sending top prospect Jared McCann and draft picks to Florida for the stay-at-home defenseman.  He should fit in with Ben Hutton on the second pairing and Alex Edler and Chris Tanev will probably be the number one.  Those two pairings should be fairly solid, at least defensively.
After that, there are a lot of sifting through the players to find a third option.  It could get a little shaky at times, especially if one of the top four goes down for any length of time.  Fifth overall pick Olli Juolevi may even end up spending some time with the big club.
The biggest question is if the big physical defense is fast enough to keep up with the NHL's new trend of speedier, attack-first offenses.
Gudbranson was a plus three last season, the first time in positive numbers and is a lifetime minus -49.
It could be another rubber filled year for goalies Ryan Miller and Jacob Markstrom and if there isn't enough scoring to overcome that, another tough year for the Vancouver Canucks.
Vancouver Canucks Management Questioned
It seems that no one is quite sure what direction the GM Jim Benning and the management are taking.  On one hand, they spent dearly to get Loui Eriksson while the Sedins still have some time left. On the other hand, they seem to be in a rebuilding mode but are trading away top prospects.
They let both Dan Hamhuis and Radim Vrbata to free agency instead of moving them at the Trade Deadline.  They got nothing for them and didn't make the playoffs.  Instead, they signed Eriksson and traded for Gudbranson.
They've traded two of their top prospects in Jared McCann and Hunter Shinkaruk and instead of trying to build from within, seem to be making moves that "may" get them to the playoffs and set them back another year or two in rebuilding.
They've made questionable contract moves with both Brandon Sutter and Loui Eriksson. They signed Jacob Markstrom to a three-year, $11 million deal, hoping that he is the answer in net. Yesterday they signed three players to PTOs in Tuomo Ruutu, James Sheppard, and Kevin Carr. It is doubtful that any will make the team.
It doesn't seem as if they got enough scoring and didn't improve that much on the defense and the best players on the team are getting older.  Put that all in the mixer and out comes what looks like a team that will miss the playoffs for the third time in four seasons.
If everything goes right for the Vancouver Canucks this season, they could sneak into the playoffs.  Does anyone really think they would be able to do much more than a first round exit?